We know that the most important thing for the angler once he has chosen us as his fishing destination is to be able to do it with his favourite techniques, devoting fervently to catching memorable fish with them.
You don't need us to go into detail explaining these techniques but you can come at ease because any of the main ones are allowed and you will be able to practice them here.
Just a few generalities about each of them to make things clearer.

Fly fishing
Ernest Hemingway himself already praised in the 1930s the virtues of the Pyrenees for fly-fishing trout. He used this technique to fish for all that his work as a writer and correspondent during the civil war allowed him.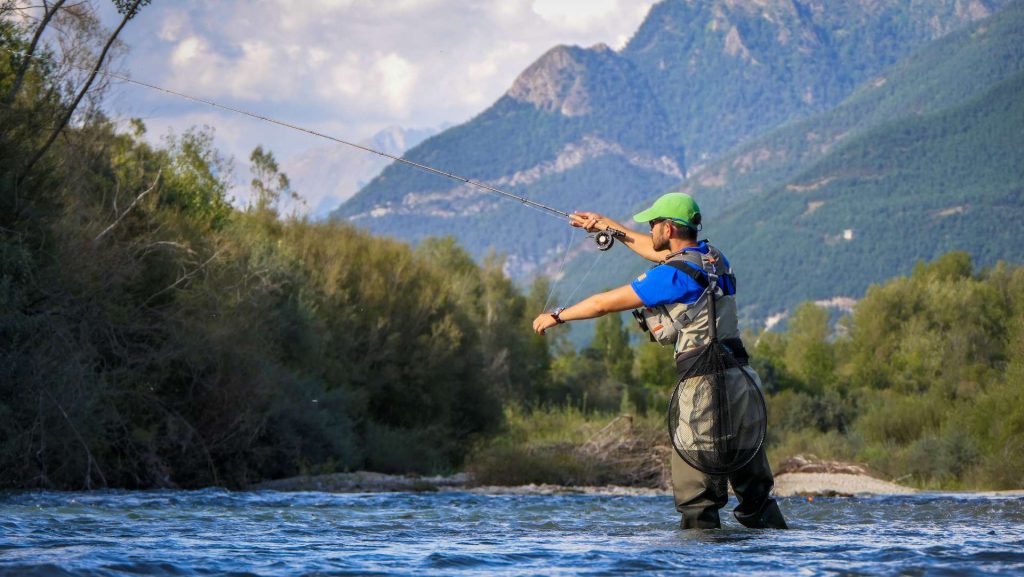 This technique, generally aimed at salmonids, is the most effective, subtle and practiced in the Aragonese trout rivers.
Given the flow strength of many rivers, it is necessary to dominate the "nymph fishing" to fish them, although we will enjoy memorable moments also with the "dry fly".
Other specialized anglers like to catch almost any kind of species only by fly. For them there are rivers and banks of many water flows in which they practice with great results the fishing of cyprinids and predators with fly-fishing. Carps, common barbels, black bass and pike are susceptible to take our flies and even catfish in the river are fished with fly fishing equipment for large marine fish.
Spearfishing or spinning
Have you ever dreamed of fishing 4 different species of predators in the same day and in the same body of water with the spinning technique?
Here it is relatively simple because in reservoirs like Ribarroja or Mequinenza live black basses, catfish, perch and pike in abundance and it is frequent to do so.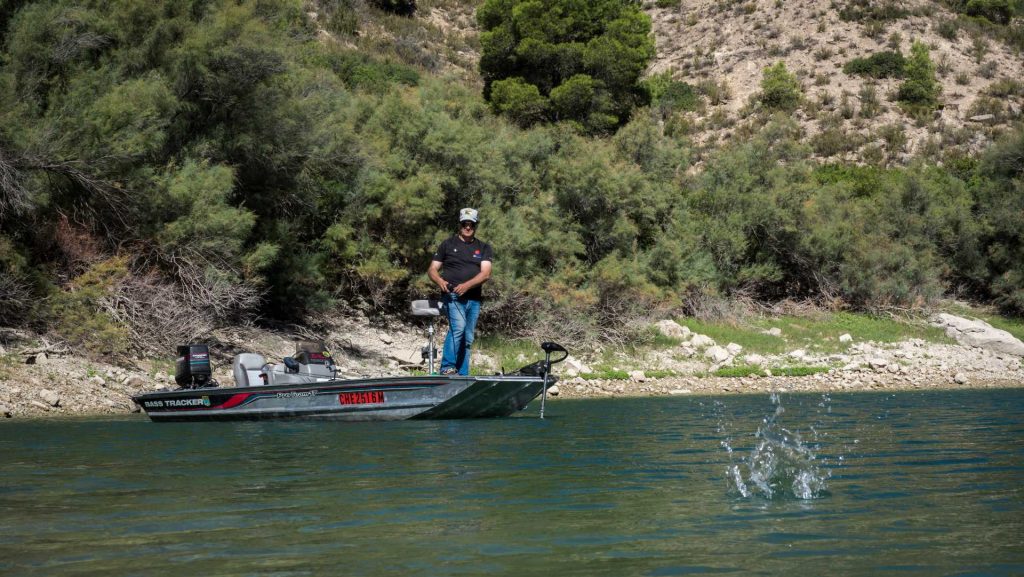 Probably the modality or technique that attracts most practitioners to Aragón each year is spinning with enormous possibilities for its practice, not only because of the amount of water and species available to fish from the shore, but also because it can be practiced in many different ways, from the boat, kayak, catamaran or float tube.
We are visited by real Japanese and American specialists and professionals. These last ones introduced this fishing technique in the 70's in the Mequinenza Reservoir, and in our waters there are competitions with great tradition and world importance such as the "Caspe Bass" and recently, the world championships.
Fishing for perch and pike perch by spinning attracts many European fishermen. Fishing is simpler than in their countries of origin and the sizes obtained are significantly larger.
The lovers of strong sensations obtain with the catfish of the Ebro River the challenges that they look for. Catches of more than 2.5 metres are records for spinning fishermen. Can you imagine something like that at the end of your fishing pole
Fishing from the banks. Catfishing and Carp fishing
Carp and catfish fishing have come to be combined and facilitated in such a way in our waters that they are fished in the same way. The same baits, in the same places and with the same equipment and techniques. Depending on their time of activity or the chance itself, bite only catfish, only carp, or sometimes we catch both alternative and randomly.
Along the banks of the main reservoirs and the Ebro River, there are countless posts where you can practise static fishing. We will see many friends, couples, and even families who spend quite a few days fishing especially carp and catfish in Mequinenza and Ribarroja reservoirs.
The network of perfectly signposted trails and accesses. The ease of reaching the fishing posts in the different areas together with the collection of rubbish and the cleanliness and spaciousness of the posts make it easy to spend a few days enjoying fishing from the shore.
It is advisable to use a dinghy to take full advantage of all the possibilities that these waters offer to the carp or catfish fisher.
There are also innumerable "match fishing" and "feeder fishing" competitions in its waters and its waters have hosted world championships of all kinds, such as the World Carpfishing Championship in 2016 or the World Catfish Cup in Chiprana.